New Colorado ProCare After Sales Service Programme for Increased Productivity and Minimal Downtime

SINGAPORE, 1 October 2020 – Canon has launched its new ProCare after-sales service programme in South & Southeast Asia, designed for users of the Colorado 1650 roll-to-roll wide format printer series powered by UVgel technology. With the objective of offering a consistent service concept for customers with production in multiple region, Colorado 1650 owners can now benefit from maximised uptime through access to spare parts, preventive maintenance and remote software application support.

ProCare contracts are available on the basis of three to five years, with the option to extend support after the initial contract has ended. Additional premium support options include next business day onsite response and print head replacement. Colorado ProCare is available via Canon Appointed Partners or directly from Canon for customers across Singapore, Malaysia, Thailand, Hong Kong, Indonesia, Taiwan, Sri Lanka and Pakistan.

Performance You Can Rely On
Colorado series printers are designed for optimal productivity with minimal operator intervention and manual maintenance. The ProCare service programme extends this philosophy, backed by a skilled team of service technicians, strong global logistics network as well as state-of-the-art communication and diagnostic tools.

This means print service providers can focus on what matters most - exceeding client expectations on quality, delivering within tight turnaround times, growing their business and increasing profits.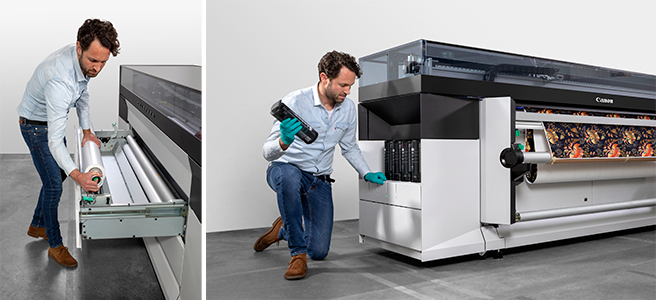 Steve Ford, Managing Director, Production Printing Asia, Canon, said, "With more than 1,500 installations of Colorado printers worldwide, it is clear that our customers see the benefits that UVgel technology brings to their business – the perfect balance of productivity and quality at a reduced Total Cost of Ownership. With Colorado ProCare, we look to further complement the impeccable features of the Colorado printers, so our customers can experience the full value of their investment. They know they have a technology they can rely on and a solutions partner who will always be at their side to ensure that."


About Canon Singapore Pte. Ltd.
Canon is a global leader in photographic and digital imaging solutions. Canon Singapore Pte. Ltd. is the headquarters for South & Southeast Asia driving sales, marketing and service strategies. Besides handling the domestic market, the company covers 22 other countries and regions including subsidiaries in India, Malaysia, Thailand and Vietnam. The parent company Canon Inc. has a global network of more than 300 companies and employs close to 200,000 people worldwide. Canon is guided by its kyosei philosophy that focuses on living and working together for the common good.

More information is available at https://asia.canon.