Canon Expands its Video Surveillance Offerings with Innovative Video Content Analysis Plug-ins
Developed to work seamlessly with Milestone Systems' video management software, the plug-ins enable efficiency and data protection in systems with multiple network camera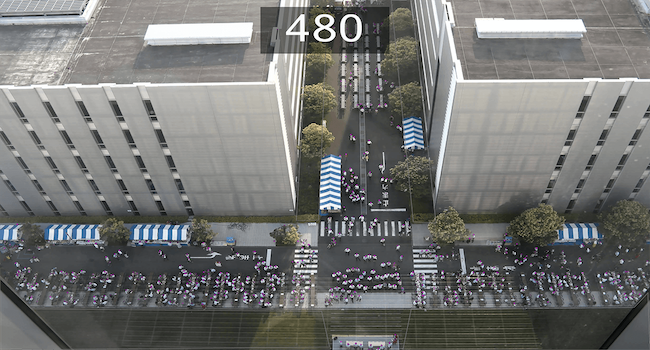 SINGAPORE, 15 OCTOBER 2019 – Canon today announced the launch of its video content analysis plug-ins, the Crowd People Counter, People Counter, Passer-by Counter and Moving Object Mask plug-ins for Milestone Systems'1 XProtect® video management software2 (VMS). Designed to work with any network cameras running on Milestone Systems' open platform VMS, the plug-ins offer greater video-analysis efficiency alongside personal data protection.

"As our customers' needs evolve, Canon continuously seeks out ways to provide a robust offering to businesses and help them simplify their operations, " said Mr. Yasuhiro Kawasaki, Assistant Director, Regional Business Solutions, Canon Singapore. "Our partnership with Milestone Systems, the industry leader in open platform video management software and now a part of Canon Group, greatly boosts our analytics capabilities in the network video surveillance sector, an area in which we are seeing increasing demand."

Canon's video content analysis plug-ins works on Milestone Systems' open platform VMS, and can help facilitate practical applications in the field of marketing on top of boosting safety and security. Leveraging the valuable video data, users can better understand foot traffic patterns, empower in-store marketing, measure sales conversion and manage queues effectively.

The plug-ins provide users with various detection functions that support intelligent video content analysis, such as detecting and counting the number of people, mapping and displaying areas of congestion, determining crowds within a designated area as well as visualising foot traffic flows while masking identity for privacy reasons.

Crowd People Counter plug-in for Milestone Systems' XProtect® VMS counts more than 80,000 people using 4K resolution in a single frame and allows selection of up to four polygonal areas of interest for live-counting within the same frame. With the aggregated count, the software then tabulates the crowd data in a live graph view for easy analysis, helping users to make informed decisions while improving response time.
​​​​​​​
​​​​​​​People Counter plug-in for Milestone Systems' XProtect® VMS automatically tabulates up to 1,500 people on full HD live stream and when combined with Passer-by Counter plug-in, users can predetermine a passing line in the video frame and allow the software to count people crossing the defined line in any direction. The automated counting reduces the amount of time required to collect data and enhances video-analysis efficiency significantly.
​​​​​​​
​​​​​​​Moving Object Mask plug-in for Milestone Systems' XProtect® VMS replaces moving objects captured on live or recorded videos with silhouettes, offering privacy-sensitive monitoring and absolute personal data protection. This solution is suitable for venues such as hospitals and hotel executive floors, enabling users to simply login via the Milestone Systems' XProtect® Smart Client or Mobile Access to view all of the live analytics.
​​​​​​​
​​​​​​​
​​​​​​​About Canon Singapore Pte. Ltd.
​​​​​​​Canon is a global leader in photographic and digital imaging solutions. Canon Singapore Pte. Ltd. is the headquarters for South & Southeast Asia driving sales, marketing and service strategies. Besides handling the domestic market, the company covers 22 other countries and regions including subsidiaries in India, Malaysia, Thailand and Vietnam. The parent company Canon Inc. has a global network of more than 300 companies and employs close to 200,000 people worldwide. Canon is guided by its kyosei philosophy that focuses on living and working together for the common good.
​​​​​​​
​​​​​​​More information is available at https://asia.canon.
​​​​​​​
---
1 Milestone Systems, headquartered in Denmark, is a global industry leader in open platform IP video management software. Acquired by Canon Europa N.V. in 2014, Milestone Systems now operates as a stand-alone company in the Canon Group.
​​​​​​​2 The Canon VCA plug-in was developed using the XProtect Software Development Kit (SDK) offered by Milestone Systems.
---