Canon Launches FPA-3030i5a Semiconductor Lithography System Supporting Reduced Cost of Ownership Manufacturing for Small Substrates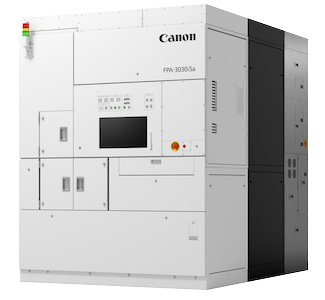 SINGAPORE, 27 October 2020 — Canon announced today the launch in Japan of the FPA-3030i5a, the newest entry in the company's lineup of i-line1 stepper semiconductor lithography systems that support the manufacture of such devices as compound semiconductors and reduce cost of ownership (CoO), an indicator of the total cost required for semiconductor manufacturing.

The FPA-3030i5a semiconductor lithography system is designed to process small substrates of 8 inches or less, and supports not only silicon wafers, but also compound semiconductor materials such as SiC (silicon carbide) and GaN (gallium nitride). This helps make possible the manufacture of various semiconductor devices that are expected to see increased demand in the future, including high-power devices for automobile electrification and high-bandwidth devices for 5G communication. In addition, the hardware and software have been upgraded from those of the system's predecessor model, the FPA-3030i5+ stepper (released in June 2012), helping to reduce CoO.

The FPA-3030i5a employs a feeder system capable of handling a variety of wafer materials and sizes, including compound semiconductors with a diameter from 2 inches (50 mm) to 8 inches (200 mm). In addition, thanks to a new off-axis alignment scope to illuminate and measure wafer alignment marks without passing through a projection lens, the system makes possible alignment measurement at a wide range of illumination wavelengths.

Backside alignment, or Through Silicon Alignment (TSA) is also available as an option to adapt a variety of customer manufacturing processes. The FPA-3030i5a also inherits the imaging performance of its predecessor model, achieving exposure resolution of 0.35 micrometer2 line width patterns. Through the implementation of these functions, system owners are able to manufacture specialty power and communication devices using a wide range of wafer materials including compound semiconductors such as SiC.

By adopting such hardware as a new alignment scope that shortens the measurement time of alignment marks and a high-speed feeder system, as well as upgraded software, the FPA-3030i5a achieves 123 wafers per hour (wph), an approximately 17% improvement in productivity compared with its predecessor model. In addition, by changing the chamber temperature control system, which maintains the lithography system in a clean environment and constant temperature, reducing power consumption by approximately 20% compared to the FPA-3030i5a's predecessor model. Through such improvements, the system helps meet the needs of users seeking reduced CoO.

CoO (Cost of Ownership)
The total cost required for capital investment and operation of a semiconductor manufacturing system. This is one of the indicators of the productivity of the manufacturing system and its processes on the mass production and is taken into consideration by manufacturers when selecting equipment.

Lineup of Semiconductor Lithography Systems for Small Substrates
Canon's lithography systems for small substrates support not only silicon wafers, but also compound semiconductor wafers, which comprise a variety of small wafers. The company's current lineup consists of three products: the KrF excimer laser stepper3 FPA-3030EX6 (released in July 2016) serves users who require high resolution; the i-line stepper FPA-3030iWa (released in February 2020) supports a wide exposure range and uses a projection lens with a variable NA (numerical aperture) from 0.16 to 0.24, which ensuring high DOF (depth of focus) to make possible exposure with high accuracy and uniformity.

FPA-3030iWa
FPA-3030i5a
(New product)
FPA-3030EX6
Exposure Wavelength
i-line (365 nm)
i-line (365 nm)
KrF (248 nm)
Resolution
0.80 micrometers
0.35 micrometers
0.15 micrometers
Reduction
2X
5X
5X
Single Exposure Angle
52 x 52 mm
22 x 22 mm
22 x 22 mm
Reticle size
6 inches
6 inches / 5 inches
6 inches
Wafer size
2 inches (50 mm) / 3 inches (75 mm) / 4 inches (100 mm) / 5 inches (125 mm) / 6 inches (150 mm) / 8 inches (200 mm)
2 inches (50 mm) / 3 inches (75 mm) / 4 inches (100 mm) / 5 inches (125 mm) / 6 inches (150 mm) / 8 inches (200 mm)
2 inches (50 mm) / 3 inches (75 mm) / 4 inches (100 mm) / 5 inches (125 mm) / 6 inches (150 mm) / 8 inches (200 mm)

Market Trends4 in Semiconductor Lithography System
In recent years, with the rapid development of the Internet of Things (IoT), the use of wafers of materials and sizes suitable for various devices is increasing along with the demand for such IoT technologies as communication devices and power devices. Semiconductor lithography systems are necessary to support specialized and small substrates, including compound semiconductor wafers and small wafers made from SiC, GaN and silicon.

The Canon Lithography System 50-year anniversary website
This year marks the 50th anniversary of Canon's full-scale entry into the lithography system business. To commemorate the occasion, Canon has published the "Canon Lithography Equipment 50th Anniversary" website, which features easy-to-understand explanations, including illustrations and videos, of the technologies behind semiconductor lithography, as well as a dedicated page for kids.



About Canon Singapore Pte. Ltd.
Canon is a global leader in photographic and digital imaging solutions. Canon Singapore Pte. Ltd. is the headquarters for South & Southeast Asia driving sales, marketing and service strategies. Besides handling the domestic market, the company covers 22 other countries and regions including subsidiaries in India, Malaysia, Thailand and Vietnam. The parent company Canon Inc. has a global network of more than 300 companies and employs close to 200,000 people worldwide. Canon is guided by its kyosei philosophy that focuses on living and working together for the common good.

More information is available at https://asia.canon.
---
1 A semiconductor lithography system that utilizes a 365 nm wavelength mercury lamp as the light source. 1 nm (nanometer) is 1 billionth of a meter.
2 1 micrometer is 1 million times 1 meter (= 1000/1 mm).
3 The exposure wavelength is 248 nm. The semiconductor lithography system that uses the laser light generated by mixing krypton (Kr) gas, a rare gas, and fluorine (F) gas, a halogen gas.
4 Based on Canon research.