Canon Announces the EOS R5 C 8K RAW Digital Cinema Camera,
Capable of Both Cinema-quality Video and High-speed, High-quality Still Image Capture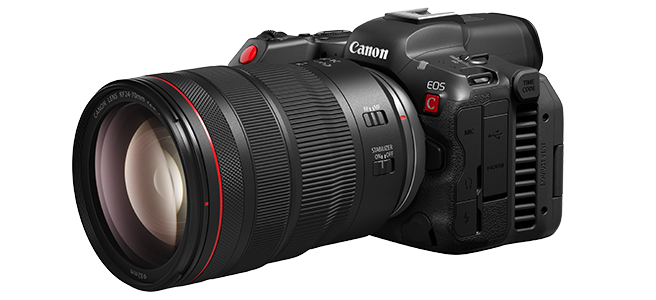 SINGAPORE, 24 February 2022 — Canon announced today the launch of the EOS R5 C, the newest addition to the company's Cinema EOS System of video production equipment. Designed for users who demand high performance for both video and still photo shooting, the camera features a compact and lightweight body weighing approximately 680g and it comes equipped with 8K RAW internal video recording.

By switching modes via the ON/OFF dial on the camera body, the EOS R5 C can be used either as a video camera with Cinema EOS System quality, or as a stills camera with high performance comparable to that of the EOS R5 mirrorless camera1 (released in July 2020). With the inclusion of next-level video and still image capabilities, the new camera is a complete package that is ideal for a wide variety of usage in which mobility is crucial, including journalism and fields that require cinema-level image quality, such as advertising and corporate video production.

The EOS R5 C is equipped with Canon's proprietary full-frame CMOS sensor that boasts 45 million effective pixels2 and a DIGIC X image processor that produces an internal recording of 8K / 30P RAW video and 8K / 60P RAW video when using an external power supply3. The camera is also ideal for a variety of video production scenarios thanks to support for 8K / 30P recording in the highly versatile MP4 file format.

With full pixel readout from 8K effective pixels, which possess a rich amount of data, the EOS R5 C can also perform oversampling to generate high-image-quality 4K / 4:2:2 / 10bit video. What's more, a proprietary heat transfer architecture and internal thermal transfer fan built into the EOS R5 C will enable video recording for longer durations than the EOS R5.

The EOS R5 C employs the Cinema RAW Light recording format that preserves the data-richness of RAW video while reducing file size. Thanks to internal recording capabilities, video can be recorded on media such as CFexpress cards without the need for an external recording device. The camera also supports Canon's proprietary XF-AVC format based on broadcast standards, making it versatile and compatible with a wide range of user workflows. What's more, a high frame rate of up to 4K / 120P enables smooth video recording even when shooting slow-motion video.

The new camera realizes both high image quality, thanks to a 45 million effective pixel count, and high-speed continuous shooting. Continuous stills shooting of up to approximately 20 frames-per-second (FPS) is possible when using the electronic shutter, and up to approximately 12 FPS when using the mechanical shutter/electronic curtain4, thus making possible high-quality image capture even for moving subjects.

The EOS R5 C will go on sale in Asia in early March 2022 at an open price.


About Canon Singapore Pte. Ltd.
Canon is a global leader in photographic and digital imaging solutions. Canon Singapore Pte. Ltd. is the headquarters for South & Southeast Asia driving sales, marketing and service strategies. Besides handling the domestic market, the company covers 22 other countries and regions including subsidiaries in India, Malaysia, Thailand and Vietnam. The parent company Canon Inc. has a global network of more than 300 companies and employs about 180,000 people worldwide. Canon is guided by its kyosei philosophy that focuses on living and working together for the common good.

More information is available at https://asia.canon.
---
1 The EOS R5 C is not equipped with in-body image stabilization (IBIS), and therefore cannot work in conjunction with optical stabilization mechanisms on the lens side.
2 Actual pixel count: approximately 47.10 million pixels.
3 Recommendation for shooting in 8K / 60P would be either: use of the DC coupler DR-E6C together with the Compact Power Adapter CA-946; or the USB power adapter PD-E1 (each sold separately, to be released on the same day as the EOS R5 C).
4 Continuous shooting speed may vary depending on such conditions as aperture settings or type of lens used. For more information, please refer to the Canon homepage.