Capture Dynamic Videos and Stills with Canon's Versatile EOS M50 Mark II
The successor of the popular Canon EOS M50 is designed to help users create captivating photographs and videos with ease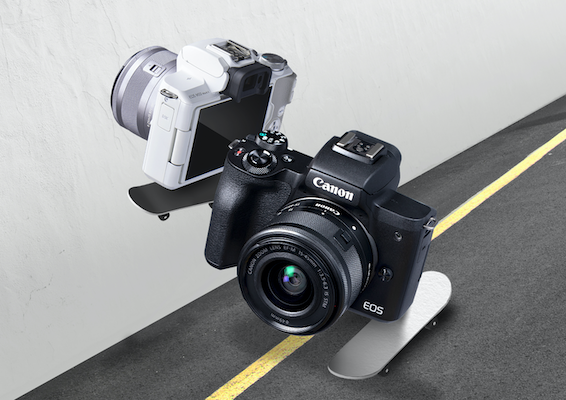 SINGAPORE, 14 October 2020 — Canon today announced the launch of EOS M50 Mark II mirrorless camera, designed for photography enthusiasts who are also keen to do videos and live stream. Whether you are a parent looking to capture fleeting moments of your child's milestones; a frequent traveler looking for a compact and fuss-free shooting experience; or someone hoping to start your own YouTube channel; the EOS M50 Mark II is designed to help create captivating photos and videos with ease.

Capture sharper images and video with its 24.1MP APS-C CMOS sensor, while its Dual Pixel CMOS AF provides quicker and more accurate autofocus functions, all while maintaining its ease of operability.

"User-friendly and versatile for both stills and video, the EOS M50 Mark II enables users to create beautiful photos and 4K quality videos easily, in various scenarios. With built-in live streaming and enhanced movie features, users can quickly upload their videos on social media platform for sharing on the go," said Udagawa Eiichi, Vice President of Regional ICP Sales & Marketing, Canon Singapore.

Capture Beautiful Portraits and Vivid Action Shots
Always had trouble capturing sharp images of your active toddler who is constantly on the move or find it hard to zoom in on your child's face as he runs across the pitch during soccer practice? The EOS M50 Mark II features an enhanced Eye Detection AF, which is able to detect and focus on a subject's eye even when the person is far away. This will ensure the eye will always stay in focus, making it possible to use Eye Detection AF for full body shots in addition to the common upper body portrait shot. Users can capture subjects quickly and accurately when they are approaching from a distance, making it great for candid shots as well.

Eye detection AF is also available with Servo AF when shooting still images and Movie Servo AF when shooting video, so you will always be able to capture your subject's natural expressions even when they are in motion.

The EOS M50 Mark II has a continuous shooting speed of up to 7.4fps with servo AF so users can capture multiple shots of moving subjects such as children or pets. Its built-in high-resolution electronic viewfinder (EVF) makes for easy viewing even when shooting in the bright outdoors.

The AF frame display in EVF or LCD screen of the EOS M50 Mark II, which shows which part of the picture the camera is focusing on, has also been improved. It is now faster and tracks the subject more smoothly, so users will always know which part of the picture will be in focus without experiencing any on-screen lag. Display speed on the AF frame display in the viewfinder or LCD screen has also been improved on the EOS M50 Mark II, allowing for a better visualisation of the tracking.

An EOS first, the EOS M50 Mark II makes full use of its touch-sensitive display with the new Tap AF feature where users can instantly switch focus from one person to another by just tapping on the screen, which is especially useful in group shots. This is in addition to the Touch & Drag AF, where users can move the AF frame by dragging their finger on the screen while shooting through the EVF.

Enhanced Movie Shooting Experience
Fast and stable AF is essential when it comes to shooting videos of moving subjects. On the EOS M50 Mark II, Eye Detection AF works with Movie Servo AF shooting. By simply keeping the subject within the frame while shooting, it will track the subject smoothly. Users can thus focus on the composition of the video while leaving the tracking of the subject to the camera.

With an improved contrast AF algorithm, users can also expect enhanced AF stability during 4K movies shooting with EF-M lenses. This will enable smooth movie recording, with reduced wobbling. EOS M50 Mark II supports movie digital zoom (approx. 3-10x) at the central part of the screen during shooting, which can be combined with optical zoom on a zoom lens to achieve magnified shooting with up-close shots.

With existing cameras, movies shot vertically are displayed smaller in a horizontal position when users play back the movie on a smart device. On the EOS M50 Mark II, an "add rotate info" option enables automatic vertical playback on smart devices, PCs and compatible social media, which enables a better viewing experience.

Vloggers are now able to live-stream directly to YouTube1 from EOS M50 Mark II by connecting to Wi-Fi without using a streaming unit. The EOS M50 Mark II also supports the Canon's new image.canon cloud platform and registered users of the platform can upload, store, download and transfer images smoothly between various devices.

Equipped with a Vari-angle LCD monitor and features such as touch screen recording, movie self-timer and an external microphone jack, the EOS M50 Mark II make it intuitive and easy for vloggers to record videos and do live streaming.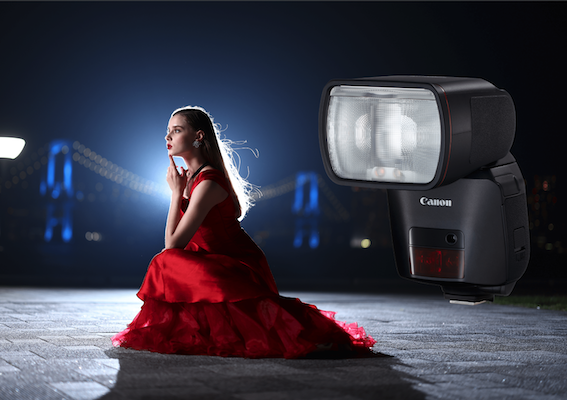 Exceptional Lighting Control with Speedlite EL-1
Designed to meet the needs of professional users, Canon's new flagship Speedlite EL-1 is the first flash model to bear the iconic red line, a symbol of high quality, performance and durability. It features a new xenon tube that provides highly stable arc discharge and ensures durability.

The Speedlite EL-1 offers great flexibility in terms of firing control, with 14-stops of manual power selection to as low as 1/8192 flash output. When combined with high ISO settings on the camera, photographers can achieve images that retain the natural colours and exposure of the environment while providing subtle lighting on the human subject.

Users can control up to 15 units of Speedlites wirelessly using radio transmission, which provides greater creative control to their lighting requirements.

Powered by a new lithium-ion battery with a new charging circuit design, the Speedlite EL-1 achieves high-speed charging performance that keeps firing in scenes with movement. In addition, the charging speed does not change even when the battery level is low. The flash can continuously fire for 160 times or more2, thanks to its active cooling system and a durable xenon tube.

With the new battery LP-EL, battery life has been enhanced to allow Speedlite EL-1 to fire up to 335 times at 1/1 power. This is approximately 3.4x more than the Speedlite 600EX II-RT. The Speedlite EL-1 is also equipped with two colour LED modelling lamps, which is very useful for photographers to envision the colour and direction of light prior to shooting.

Being Canon's new flagship flash, the Speedlite EL-1 can handle the elements with its weather sealing design, with dust and water resistance similar to the EOS-1DX Mark III camera. The Speedlite EL-1 also sports an improved UI and a new joystick, which makes accessing the menus and changing of settings a breeze.

Product Specifications
Camera Model
EOS M50 Mark II
Image Processor
DIGIC 8
Image Sensor
Camera Effective Pixels
(Total pixels)
APS-C size CMOS
Approx. 24.1 megapixels
(Approx. 25.8 megapixels)
Metering Sensor
384 zone (24 × 16) metering using image sensor
Focus Method
Dual Pixel CMOS AF (Contrast Detection for 4K movie recording)
Autofocus Method
Face+ Tracking, Zone AF*, 1-point AF*, Spot AF*

*Disabled for 4K movies
Available AF Point Positions
Stills: Max. 3975
Movie recording: Max. 3375 (full HD)
Available AF Zones when Automatically Selected
Stills: Max. 143
Movie recording: Max. 117
Eye Detection AF
Supported (When set to Face+ Tracking)
Touch & Drag AF
Supported (When [Tap to select subject] is disabled)
Tap to Select Subject
Supported
Still Image Normal Max ISO speed
100 - 25,600 expandable to H (ISO 51,200)
Movie Normal Max ISO Speed
Full HD/HD: 100 - 12,800 expandable to H (ISO 25,600)
4K: 100 - 6400
Continuous Shooting
Max. approx. 10 shots/sec (One-Shot AF)
Max. approx. 7.4 shots/sec (Servo AF)
Max Shutter Speed
1/4000 sec.
LCD Monitor
3.0in, approx. 1.04 million dot Vari-angle
Movie
4K UHD (3840 × 2160): 25.00p/23.98p
Full HD (1920 x 1080): 59.94p/50.00p/29.97p/25.00p/23.98p
HD (1280 x 720): 59.94p/50.00p
Hybrid Auto Full HD (1920 x 1080) : 59.94p/50.00p/29.97p/25.00p/23.98p
Hybrid Auto HD (1280 x 720): 59.94p/50.00p
Video Snapshot / Miniature effect movie Full HD (1920 x 1080): 29.97p/25.00p/23.98p
High Frame rate movie HD (1280 x 720): 119.88p/100p
Time-lapse movies 4K UHD (3840 × 2160) & Full HD (1920 x 1080): 29.97p/25.00p
Movie Digital Zoom
Yes (approx. 3 - 10x)
Size
Approx. 116.3 × 88.1 × 58.7 mm
Weight
Black: Approx. 387g (including battery pack and card)
White: Approx. 388g (including battery pack and card)
Network
Wi-Fi /Bluetooth Low Energy Technology
| | |
| --- | --- |
| Model | Speedlite EL-1 |
| Guide Number (ISO100, in meters/ft.) | 60/196.9 |
| Zoom Range | 24-200mm |
| Flash Output | 1/8192 – 1/1 |
| Flash Coverage Angle | 14mm* to 200mm (*with wide panel) |
| Bounce Angle | 120 degree upward, 7 degree down & 180 degree horizontally (left and right) |
| Wireless Flash Function | Optical transmission & Radio Transmission |
| Maximum Flash Count | Approx. 335 -2345 with a fully charged battery pack LP-EL |
| Power Source | LP-EL lithium ion battery pack |


About Canon Singapore Pte. Ltd.
Canon is a global leader in photographic and digital imaging solutions. Canon Singapore Pte. Ltd. is the headquarters for South & Southeast Asia driving sales, marketing and service strategies. Besides handling the domestic market, the company covers 22 other countries and regions including subsidiaries in India, Malaysia, Thailand and Vietnam. The parent company Canon Inc. has a global network of more than 300 companies and employs close to 200,000 people worldwide. Canon is guided by its kyosei philosophy that focuses on living and working together for the common good.

More information is available at https://asia.canon.
---
1 The live streaming service of this product supports scheduled live streaming on YouTube only. To use the live streaming service, registration on image.canon is needed in advance together with the latest firmware. In accordance with YouTube's "Restrictions on live streaming", users must have a minimum of 1,000 channel subscribers in order to live stream from a mobile device.
2 The number of continuous flashes until the temperature warning level 1 (the interval at which firing is possible is forced to eight seconds) at 1/1 power (manual firing).