Canon Announces CJ17ex6.2B Portable 4K Broadcast Zoom Lens, Strengthening its Lineup of the High-mobility UHDgc Series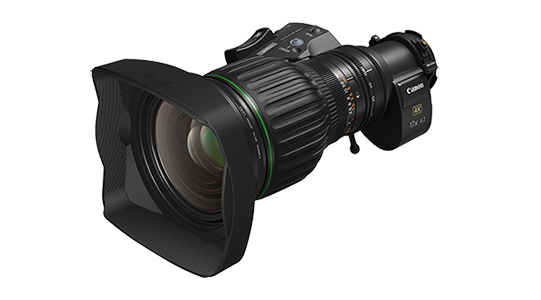 SINGAPORE, 7 April 2021 — Canon announced today the launch of a new addition to its UHDgc series of portable 4K broadcast zoom lenses—the CJ17ex6.2B. The lens has 4K quality optical performance while achieving the high portability of HD broadcast lenses. The compact, lightweight lens supports a variety of broadcast and on-site use cases including press conferences and news reporting. With the addition of this new lens, Canon further expands its lineup to 18 models of 4K broadcast lenses, the biggest in the industry1, and continues to help meet the wide-ranging needs of users in industries such as broadcasting and content production.

The CJ17ex6.2B features a wide-angle focal length of 6.2 mm—enabling flexible usage for capturing video for genres such as news and documentaries, while also providing a 17x zoom ratio that has a focal length of up to 106 mm. What's more, the lens is equipped with a built-in 2x extender that enables users to quickly double the focal length up to 212 mm while preserving fine visual details.

The CJ17ex6.2B utilizes UD2 lens elements, optimally arranged in a proprietary optical configuration. This allows for excellent suppression of chromatic aberrations such as colour fringing to realize superlative colour reproduction all the way to the corners of the image. With lens coating and a specially designed lens barrel, flaring and ghosting is also reduced. In addition, the lens support HDR3 and WCG4 compatible colour gradation, making possible rich visual expression.

Despite its high-performance 4K optical capabilities, the CJ17ex6.2B has a compact and lightweight body, weighing5 just approximately 2.15 kg and measuring approximately 165 mm (w) x 109.5 mm (h) x 240.5 mm (l) in size—comparable to HD broadcast lenses. What's more, the lens' ergonomically designed hand grips and balance results in reduced burden on the camera operator when performing shoulder-mounted recording.

The CJ17ex6.2B will go on sale in late May 2021 at an open price.


About Canon Singapore Pte. Ltd.
Canon is a global leader in photographic and digital imaging solutions. Canon Singapore Pte. Ltd. is the headquarters for South & Southeast Asia driving sales, marketing and service strategies. Besides handling the domestic market, the company covers 22 other countries and regions including subsidiaries in India, Malaysia, Thailand and Vietnam. The parent company Canon Inc. has a global network of more than 300 companies and employs close to 200,000 people worldwide. Canon is guided by its kyosei philosophy that focuses on living and working together for the common good.

More information is available at https://asia.canon.
---
1 As of April 7, 2021. Based on Canon research.
2 A lens element utilizing ultra-low dispersion (UD) glass.
3 High Dynamic Range refers to a technique that enhances the contrast between light and dark values (the dynamic range) of an image.
4 Wide Colour Gamut, technology that expands the range of colours that can be represented in video.
5 For the CJ17ex6.2B IASE S. The CJ17ex6.2B IRSE S weighs approximately 2.07 kg. The CJ17ex6.2B IASE S is equipped with a focus servo motor, while the CJ17ex6.2B IRSE S is not.