Canon Commences Sales of FPD Lithography Equipment that Achieves ±1.5 µm Resolution with An Overlay Accuracy of ±0.35 µm for Generation 8 Glass Panels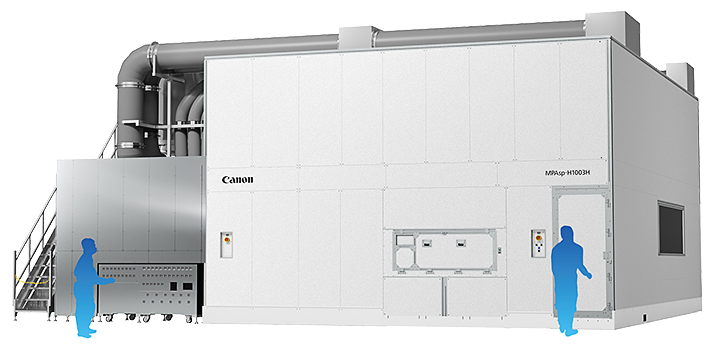 SINGAPORE, 27 July 2022 — Canon Inc. announced today that the company has commenced sales of the MPAsp-H1003H, a new Flat Panel Display (FPD) lithography system that is capable of resolving 1.5 µm1 (L/S2) features across Generation 8 glass panels3.

The rapid adoption of remote work and education has led to increased demand for information display devices including laptop PC and tablets. This demand is further compounded by the need for onboard displays in vehicles as electric cars become more widespread and automatic driving technology grows more sophisticated. Such displays must be thin, lightweight and high-resolution.

Conventional display panels have thus far been manufactured from Generation 6 glass panels4. However, newer Generation 8 glass panels enable a greater number of display panels to be manufactured per glass panel, and accordingly, there are growing needs for mass production using the Generation 8 panels. Canon's new MPAsp-H1003H achieves a high resolution of 1.5 µm and an overlay accuracy of ±0.35 µm for Generation 8 glass panels, thus helping contribute to greater productivity in the manufacturing of displays for IT-related devices.

The MPAsp-H1003H inherits the same projection optics configuration as the MPAsp-H1003T (released in October 2018), which is capable of batch exposing 65-inch display panels on Generation 8 glass panels, as well as the ultra-high-resolution technology5 of the Generation 6 compatible MPAsp-E813H (released in September 2014), realizing a high resolution of 1.5 µm. This enables manufacturers to meet the need for information display panels with high resolution, as well as produce large 65-inch display panels without visible stitching marks.

Thanks to improved and refined high-speed stage technology, a widely praised feature of its predecessor models, the new MPAsp-H1003H realizes greater plate stage functionality that makes possible an approximately 20% boost in productivity compared with the MPAsp-H1003T. What's more, the new system also achieves a 20% improvement in overlay accuracy (±0.35 µm) made possible by the combination of a proven alignment system and magnification correction machinery.

The MPAsp-H1003H features an illumination mode switching function that enables ultra-high resolution, as well as Slit Illuminance Control (SIC) technology that maintains consistent line exposure width. These enable users to better adapt to increasingly diverse production needs while also contributing to reliable, high-quality manufacturing output.


About Canon Singapore Pte. Ltd.
Canon is a global leader in photographic and digital imaging solutions. Canon Singapore Pte. Ltd. is the headquarters for South & Southeast Asia driving sales, marketing and service strategies. Besides handling the domestic market, the company covers 22 other countries and regions including subsidiaries in India, Malaysia, Thailand and Vietnam. The parent company Canon Inc. has a global network of more than 300 companies and employs about 180,000 people worldwide. Canon is guided by its kyosei philosophy that focuses on living and working together for the common good.

More information is available at https://asia.canon.
---

1 Micrometer (μm): 1 μm = one millionth of a meter = one thousandth of a millimeter.
2 Line and Space. Refers to patterns in which lines and spaces are separated by consistent intervals.
3 Glass panels with dimensions of 2,200 mm x 2,500 mm, primarily used in the manufacture of television displays.
4 Glass panels with dimensions of 1,500 mm x 1,850 mm, primarily used in the manufacture of small- and mid-size displays including those for smartphones.
5 Technology that controls the phase and intensity of light in order to increase the resolving power of the lithography system.