Canon Introduces the DP-V3120, Enhanced for Next-Level Monitoring and Image Accuracy
The 31-inch professional 4K HDR reference display is able to achieve up to 2,000 cd/m2 white luminance and an impressive high contrast of 2000000:1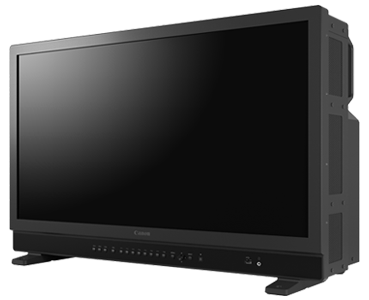 SINGAPORE, 5 September 2019 — Canon today announced a flagship monitoring product and the latest innovation in its HDR Reference Display lineup: the DP-V3120, a 31-inch professional 4K HDR reference display with an industry-leading1 white luminance of up to 2,000 cd/m2 (without loading characteristics) and high contrast of 2000000:1. This gives the DP-V3120 the ability to faithfully express gradation and accurately display original tones for users seeking a "true-to-life" viewing experience, making it ideal for HDR productions ranging from cinema and broadcast environments.

The DP-V3120 is able to achieve impressively high levels of white luminance with accuracy through advanced technologies, specifically with a display engine and LED backlighting system designed by Canon and an IPS LCD. It also achieves full-screen black luminance of 0.001 cd/m2, allowing for richer and more accurate black rendition. When users are assessing image quality for video content, the optimum luminance mode can be selected according to the input signal. This enables faithful colour reproduction, high resolution and high contrast visuals, and allows users to accurately and precisely conduct their image assessment during the grading process.

With a 31 inch screen, the DP-V3120 is the ideal size for a variety of shooting needs and editing environments. It comes with a spectrum of assist functions that allows for monitoring and colour grading of HDR footage. The DP-V3120 is also equipped with 12G-SDI terminals (four IN and four OUT) to enable multi-viewing of different sources simultaneously in a variety of input formats. Other functions include HDR monitoring assist, which includes false color to help visualise luminance for easier monitoring of footage. The OSD menu maintains the easy operability of previous models — including DP-V2421 and DP-V2411 — and updates are easy to identify.

The DP-V3120 exceeds the Dolby Vision required monitor specifications2 , including General Monitor Specifications and Grey Scale Reproduction to meet the requirement of Dolby Vision certified post-production facility. With this achievement, Canon further proves its ability to support the efficient production of high-quality visual content and meet the various needs of content production worksites.​​​​​​


About Canon Singapore Pte. Ltd.
Canon is a global leader in photographic and digital imaging solutions. Canon Singapore Pte. Ltd. is the headquarters for South & Southeast Asia driving sales, marketing and service strategies. Besides handling the domestic market, the company covers 22 other countries and regions including subsidiaries in India, Malaysia, Thailand and Vietnam. The parent company Canon Inc. has a global network of more than 300 companies and employs close to 200,000 people worldwide. Canon is guided by its kyosei philosophy that focuses on living and working together for the common good.

More information is available at https://asia.canon.
---
​​​​​​​1 Among 4K professional reference displays. Contrast of 2000000:1 achieved using a 4K (4096 x 2160 pixel) LCD panel, maximum white luminance of 2000 cd/m2, black luminance of 0.001 cd/m2. As of September 5, 2019. Base on a Canon survey. Additionally, luminance values are factory default standards and are not guaranteed.
​​​​​​​2 Based on "Dolby Vision Certified Mastering Facilities Colorgrading Systems and Monitors Version 1.3" (published in September 2019) required specifications for video production workflows promoted by Dolby Laboratories, Inc.
​​​​​​​​​​​​​