New Canon imagePRESS C910 Series Delivers Productivity, Versatility and Brilliant Colour-Image Quality
An impressive light to mid-volume production colour digital press, the imagePRESS C910 Series helps small commercial printers and in-plants meet today's challenging demands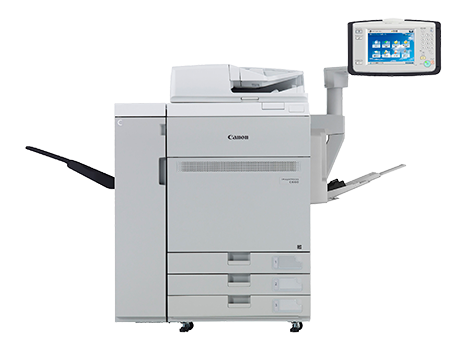 SINGAPORE, 30 APRIL 2019 – Canon today announced the launch of the new imagePRESS C910 Series. Building on the success of its predecessor, the class-leading imagePRESS C850 Series, the imagePRESS C910 Series is a light to mid-volume production colour digital press that incorporates advanced technologies to help small commercial printers and in-plants drive business performance in a compact footprint.

"Canon incorporated its 'customer-first' mindset and unique understanding of imaging, colour science and production workflow in the development of a workhorse digital press that supports customers' day-to-day business," said Takashi Nagao, Senior Manager, Regional PS Product Marketing, Canon Singapore. "With the new imagePRESS C910 Series, we continue to innovate our high-quality digital presses and offer productivity-enhancing capabilities that deliver efficient, cost-effective production for our light-to mid-volume commercial and in-plant customers."

Comprised of three models, the imagePRESS C910, C810 and C710, the series offers robust production speeds of up to 90 pages per minute (ppm), 80 ppm and 70 ppm respectively1, while featuring an intuitive, flexible design that delivers both productivity and versatility for printing establishments of varying sizes.

Engineered to help print service providers meet today's challenging demands and tight deadlines, the imagePRESS C910 colour digital press series combines intuitive operation and embedded colour controls to shorten turnaround times while delivering brilliant output on a wide range of media.

​​​​​​​The latest imagePRESS C910 Series includes a range of new finishing options and extended media support to further enhance application flexibility:
​​​​​​​​Incorporates GBC eWire Pro to provide in-line production of wire bound documents.
Includes double punching2 on tabloid size sheets to help maximise productivity and a new compact, robust inline booklet maker.
Offers an open Document Finishing Device (DFD) adapter and bridge interface that allows 3rd party finishing to connect to the Canon Staple/Booklet Finisher-W1 for corner stapling and advanced in-line finishing on the imagePRESS C910 and C810.
Supports media up to 350 gsm Cover to help print service providers expand the range of media offerings for applications such as business cards and direct mail.
Supports printing on media up to 1300 mm3, allowing expanded application support of novel marketing collateral, pocket folders and banners.
Recognising workflow as a crucial aspect of every print production environment, the new imagePRESS C910 Series offers a choice of Digital Front Ends: Canon's PRISMAsync Print Server Version 7 and the EFI Fiery powered imagePRESS Servers. Print service providers can select the imagePRESS Server H350 or imagePRESS Server G250, built on EFI®'s Fiery® FS350 platform that promises fast processing, superb image quality and streamlined, automated workflows for sheet-fed digital production systems.
​​​​​​​
​​​​​​​In addition to meeting market demands for a consistent workflow between monochrome and colour presses, the PRISMAsync family of print servers now include a brand new offering, the PRISMAsync Print Server LP. Targeted at light-volume print service providers, PRISMAsync Print Server LP helps streamline production further by unifying monochrome and colour workflows, reducing the chance of operator error and enabling efficient job management.
​​​​​​​
​​​​​​​Availability
​​​​​​​The imagePRESS C910 Series will be available at authorised Canon distributors and dealers from May 2019 onwards.

​​​​​​​​​​​​​​​​​​​​​
​​​​​​​About Canon Singapore Pte. Ltd.
​​​​​​​Canon is a global leader in photographic and digital imaging solutions. Canon Singapore Pte. Ltd. is the headquarters for South & Southeast Asia driving sales, marketing and service strategies. Besides handling the domestic market, the company covers 22 other countries and regions including subsidiaries in India, Malaysia, Thailand and Vietnam. The parent company Canon Inc. has a global network of more than 300 companies and employs close to 200,000 people worldwide. Canon is guided by its kyosei philosophy that focuses on living and working together for the common good.
​​​​​​​
​​​​​​​More information is available at ​​​​​​​https://asia.canon.
---
​​​​​​​​​​​​​1​​​​​​ Based on A4 80 gsm paper.
​​​​​​​​​​​​​​2 Not yet available at launch.
​​​​​​​3 Media up to 350 gsm cover, optional accessories required to support.