Canon Announces New Portable Zoom Lens for 4K Broadcast Cameras with Class-leading Wide-angle Focal Length of 4.3 mm and
Maximum Zoom of 15x
The new CJ15ex4.3B is Canon's latest addition to its UHDxs series of high-end portable zoom lenses, delivering 4K-quality performance in a compact and light-weight body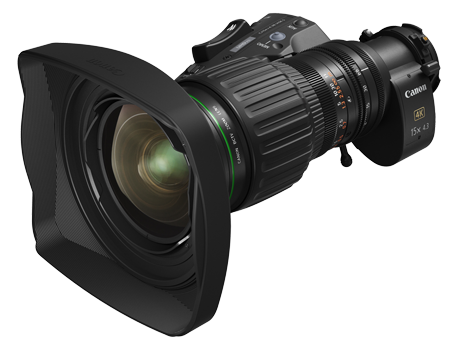 SINGAPORE, September 5, 2019 — Canon announced today the launch of the CJ15ex4.3B, the latest addition to the its UHDxs series of high-end portable zoom lenses for 4K broadcast cameras employing 2/3-inch sensors. Delivering high optical performance characteristic of the UHDxs series, the CJ15ex4.3B impresses with a class-leading1 widest focal length of 4.3 mm and highest zoom ratio of 15x, making it ideal for producing high-quality, immersive videos in a wide variety of scenarios – ranging from sports broadcasting to studio programming. Canon will continue expand its lineup of portable lenses for 4K broadcast cameras and to meet the diverse needs of a wider range of customers.

With a wide-end focal length of 4.3 mm and a 15x zoom ratio, the CJ15ex4.3B is ideal for capturing scenes such as stadium overviews and landscapes. Moreover, the wide focal length of 4.3 mm and minimum focusing distance of 0.3 m makes the lens ideal for shooting in environments with limited space or if the videographer chooses to get up close to subjects they are shooting.

Through optimal placement of fluorite, UD2 and Super UD2 lenses in a multi-group optical configuration developed by Canon – the CJ15ex4.3B realizes excellent correction of phenomena such as color bleeding and chromatic aberration. In addition, Canon's proprietary Air Sphere Coating (ASC) for lenses helps reduce flaring and ghosting, thereby enabling greater visual expression with rich gradation, even during HDR3 and WCG4 shooting.

The CJ15ex4.3B, which is packed in a compact body of just 163.0mm (W), 107.6mm (H) and 249.6mm (L) and only weighing approximately 2.19 kg5 , also delivers superior 4K-quality performance for its users. By providing excellent optical performance required by professionals in specialized fields such as broadcast journalism and documentaries, the compact and lightweight packaging of the CJ15ex4.3B makes it comparable to HD camera lenses, which greatly assists in reducing the load on camera operators.

The CJ15ex4.3B will be available in Jan 2020.

​​​​​​​​​​​​​​​​​​​​​
​​​​​​​​​​​​​​​​​​​​​​​​​​​​​​​​​​​About Canon Singapore Pte. Ltd.
​​​​​​​Canon is a global leader in photographic and digital imaging solutions. Canon Singapore Pte. Ltd. is the headquarters for South & Southeast Asia driving sales, marketing and service strategies. Besides handling the domestic market, the company covers 22 other countries and regions including subsidiaries in India, Malaysia, Thailand and Vietnam. The parent company Canon Inc. has a global network of more than 300 companies and employs close to 200,000 people worldwide. Canon is guided by its kyosei philosophy that focuses on living and working together for the common good.
​​​​​​​
​​​​​​​More information is available at https://asia.canon.
---
1 Among portable-type lenses with 2/3-inch sensors and wide-end focal lengths under 5.0 mm. As of September 5, 2019. Based on a Canon survey.
​​​​​​​2 UD refers to "Ultra Low Dispersion" lenses. Super UD lenses further improve on the advancements of UD technology.
​​​​​​​3 High Dynamic Range refers to a technique that enhances the contrast between light and dark values (the dynamic range) of an image.
​​​​​​​4 Wide Color Gamut, technology that expands the range of colors that can be represented in video.
​​​​​​​5 For the CJ15ex4.3B IASE S, which incorporates an internal focusing motor. The CJ15ex4.3B IRSE S, a manual-focus type lens, weighs approximately 2.11 kg.
​​​​​​​