Canon Unveils a New Wireless Mini Projector for Home Cinema On-the-go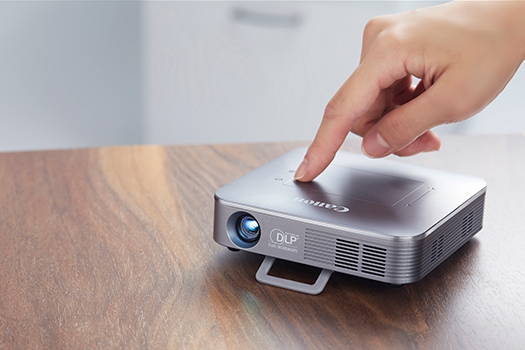 SINGAPORE, 14 July 2020 – Canon, a world leader in digital imaging, today announced the MP250 wireless mini projector with smartphone mirroring, a built-in rechargeable battery and HDMI interface built on an Android operating system. This sleek and powerful projector throws giant 93-inch images onto any wall from a distance of just 3-metres, making it ideal for homes, small offices, mobile professionals, and use during family holidays.

Outstanding image fidelity in ultra-portable form
The MP250 is powered by a quad-core 1.5GHZ processor and 2GB of SDRAM, deftly handling even 4K video input sources easily.

At just 407g, the ultra-compact MP250 encloses a built-in rechargeable battery that supplies up to 2 hours of video playback1 even at 250 lumens brightness. For long movies or presentations, simply stay powered with the bundled AC adaptor for hours of uninterrupted operation.
​​​​​​​
​​​​​​​Automatic keystone correction and screen rotation for fast setup
​​​​​​​With auto vertical keystone correction and auto image rotation, setting up the MP250 is fast and easy. The built-in base stand allows the device to project at up to a 40° angle on a flat office desk, while a built-in 1/4" tripod mount ensures compatibility with different tripod stands tom achieve the perfect height and setup.
​​​​​​​
​​​​​​​Built-in touchpad with 2-finger gesture support
​​​​​​​The large touchpad supports precise cursor navigation and virtual keyboard entry, and 2-finger gesture inputs such as pinch-to-zoom and speed scrolling make quick navigation of long menus and websites possible without the use of external input devices. The use of external input peripherals like keyboards and mice are also supported via USB or Bluetooth connection.
​​​​​​​
​​​​​​​Multiple connectivity options for all your devices
​​​​​​​With a built-in web browser, videos can be streamed directly over the Internet, while users of Android phones or tablets2 can mirror their screens and share holiday snapshots from albums, videos, and other multimedia content. With 4GB of built-in device memory, users can also store videos, photos, and office documents such as Word, PowerPoint and PDF files for standalone device playback.
​​​​​​​
​​​​​​​Standard HDMI, USB-A port and a Micro SD card slot complete the generous range of connectivity options available on the device, while dual band wireless support ensures the MP250's suitability for all home and work environments, fulfilling all portable wireless projection needs.
​​​​​​​
​​​​​​​MP250
​​​​​​​Wireless mini projector
​​​​​​​
Product Dimension and Weight
Approx. 120 x 120 x 33mm (W x D x H), 407g
Image Element and Brightness
DLP DMD optical engine, up to 250 lumens
Output Resolution
854 x 480 (WVGA)
Input Connectivity

HDMI 1.4 x 1
​​​​​​USB-A 2.0 x 2
​​​​​​​Micro SD x 1 (up to 32GB)
​​​​​​​Wi-Fi (2.4GHz/5GHz, 802.11 a/b/g/n/ac)

Output Connectivity

3.5mm stereo mini jack
​​​​​​​Bluetooth 4.2

Operating System

Embedded Operating System: Android 7.1.2
​​​​​​​Auto vertical keystone correction
​​​​​​​Auto screen rotation and rear projection
​​​​​​​Built-in 3,100mAh battery
​​​​​​​Built-in memory: 8GB (For user, 4GB)
​​​​​​​​​​​​​​
About Canon Singapore Pte. Ltd.
​​​​​​​Canon is a global leader in photographic and digital imaging solutions. Canon Singapore Pte. Ltd. is the headquarters for South & Southeast Asia driving sales, marketing and service strategies. Besides handling the domestic market, the company covers 22 other countries and regions including subsidiaries in India, Malaysia, Thailand and Vietnam. The parent company Canon Inc. has a global network of more than 300 companies and employs close to 200,000 people worldwide. Canon is guided by its
kyosei
philosophy that focuses on living and working together for the common good.
​​​​​​​
​​​​​​​More information is available at
https://asia.canon
​​​​​​​​​​​​​​.
---
​​​​​​​​​​​​​​
1
Video playback with medium volume and 50% brightness.
​​​​​​​
2
Requires mobile device with Android 4.2.2 or later. Android is a trademark of Google LLC.