To Users of the imageCLASS MF5980dw multifunction printer
Thank you for using Canon products.
It has come to our attention that certain units of the "imageCLASS MF5980dw" multifunction printer (launched since September 2011) may contain a software bug which causes wrong detection of certain information under the Fax control panel.
Under such rare circumstances, an address which is different from what the user has selected via the "One-touch dial key" could be selected.
We have released a firmware upgrade to address this issue. Please refer to the information and instructions below on how you can check whether your product is affected and if so, how to rectify the issue.
We apologise for any inconvenience caused. We are constantly monitoring and implementing quality controls so that we can provide you with reliable products.
Thank you for your understanding and continued support.
Instructions:
Your "imageCLASS MF5980dw" could be affected if it is version 02.49 or below.

To check the version of your "imageCLASS MF5980dw":

Push [Report] key on the control panel.
Select "Print list" and push [OK] key.
Select "User data list" and push [OK] key.
Push [OK] key.
Select "Yes" with left arrow key and push [OK] key.
You should then see a screen similar to the illustration below.
Confirm your version no. which is reflected after "PANEL" as highlighted.


If your version is 02.50 and above, your unit is not affected and no action is required. If your version is 02.49 and below, please download and install a firmware upgrade. Should you require assistance with the download or require any further assistance, please contact your nearest Canon service center.
Information:
Possible Symptom in Affected Units
When the One-touch dial key is used to select the addressee, there might be a rare occurrence which a different addressee from the intended one is selected. For this reason, if the start button is pushed without confirming visually the indication in the display of control panel, the fax can be sent to an unintended addressee. This symptom occurs due to wrong recognition of open / close of fax control panel. For instance, One-touch dial key 01 is pushed, but One-touch dial key 08 (positioned as the same position as key 01 when fax control panel is opened) is selected.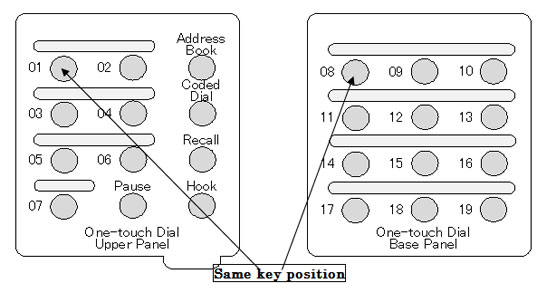 Cause This is caused by a software bug that detects the on / off behavior of the switch (up / down position of the panel) generated at the time of flipping open / close state of fax control panel - the state of the panel open / close may be wrongly detected.