New Canon CMOS Sensors Capture Warp-free 19 MP Images of High-speed Subjects, Ideal for Industrial and Monitoring Applications Requiring High Sensitivity, Image Quality and Speed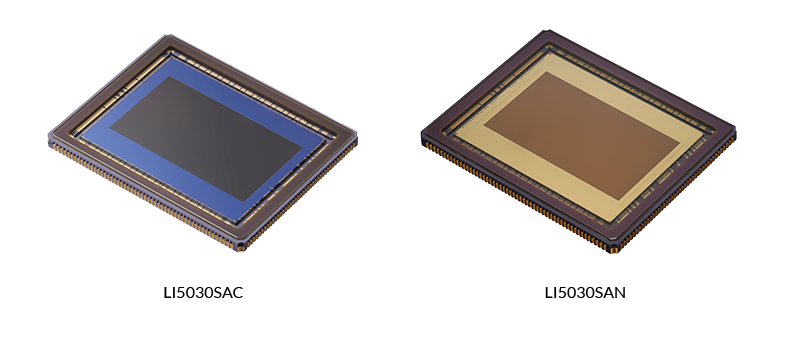 SINGAPORE, 28 December 2022 — Canon announced today the launch in Japan of four new CMOS sensors—the LI5030SAC (colour), LI5030SAM (monochrome), LI5030SAI (colour + near-infrared) and LI5030SAN (without microlens array or colour filter).

In recent years, there has been growing interest in the digital transformation (DX) underway in a variety of industries, as well as increased interest from society for greater safety and security. Accordingly, there has been increasing demand for industrial and network cameras—in particular, for the high-performance image sensors used by such cameras. Canon's new 35 mm full-frame CMOS sensors feature global shutters, high pixel counts of approximately 19 megapixels and the ability to capture high-speed video up to approximately 58 frames per second (fps) when outputting with all effective pixels. The new sensors are suitable for a wide range of environments and applications, including day and night use at port and rail facilities, inspection of microstructures using microscopes, and industrial uses including component inspection in factories.

The new sensors from Canon feature global shutters, enabling the capture of accurate, distortion-free images of subjects moving at high speeds, as well as image capture when the camera using the sensor is moving at high speeds. In addition, the sensors achieve a high effective pixel count of approximately 19 megapixels (5,688 x 3,334), more than 2.3 times that of 4K images, making possible image capture with a wide angle of view and high resolution. What's more, while conventional image sensors require a long time for signal readout for high pixel counts, these new sensors maintain fast signal readout speeds without dropping framerates thanks to faster internal drive circuitry and signal processing circuitry. This enables a fast readout speed of approximately 58 fps when outputting with all effective pixels.

Each pixel measures a large 6.4 μm1 per side, thereby achieving optimised light use efficiency and high sensitivity, enabling both monitoring of low-light night environments and capture of bright images. In addition, the sensor technology Canon has cultivated over its long history as a leading imaging company, helps reduce signal noise, thus resulting in a high dynamic range that allows high-quality image capture in locations with harsh differences in light levels, such as building entrances.

Alongside the colour LI5030SAC and monochrome LI5030SAM, Canon is aiming to better meet a wider range of customer needs with two additional sensor models. The LI5030SAI supports image capture on both visible light and near-infrared light spectrums, making it suitable for cameras used in such applications as public transportation and factory monitoring. The LI5030SAN, which eschews microlens arrays and colour filters, is suitable for such devices as electron microscopes and X-ray detection cameras. A Canon sensor with comparable functionality to the LI5030SAN has already been successfully used in the SightSKY (EM-04500SKY) electron microscope CMOS camera manufactured by JEOL Ltd.

Comment on the New Sensors from Mr. Toyohiko Tazawa
Director & Senior Executive Officer, JEOL Ltd.
Our SightSKY (EM-04500SKY) CMOS camera for electron microscopes uses sensors equivalent to Canon's LI5030SAN. An electron microscope irradiates a sample with a beam of electrons, whose wavelength is shorter than that of visible light, to magnify the image for observation. Thanks to the global shutter function and high frame rate of the sensor, we successfully developed an electron microscope camera that can capture high-resolution images of the target object in a sample without distortion, even when the sample is moved by the influence of irradiating electrons. Canon's high-sensitivity, low-noise sensor is also suitable for observing fragile samples such as cells, as it can also work with lower-intensity electron beams. We expect to see such technology used by a wide variety of institutions, including universities and research facilities.


About Canon Singapore Pte. Ltd.
Canon is a global leader in photographic and digital imaging solutions. Canon Singapore Pte. Ltd. is the headquarters for South & Southeast Asia driving sales, marketing and service strategies. Besides handling the domestic market, the company covers 22 other countries and regions including subsidiaries in India, Malaysia, Thailand and Vietnam. The parent company Canon Inc. has a global network of more than 300 companies and employs about 180,000 people worldwide. Canon is guided by its kyosei philosophy that focuses on living and working together for the common good.

More information is available at https://asia.canon.

APPENDIX
Test Scenario Taken with LI5030SAC

With a global shutter CMOS sensor, all pixels are exposed simultaneously due to the memory embedded in each pixel. This allows distortion-free images of fast-moving subjects.

The 35 mm full-frame camera has 19 million effective pixels (5,688 x 3,334), with pixels that are 6.4 μm on a side, resulting in high resolution and high sensitivity. It is possible to acquire high-quality images with a wide angle of view even in scenes that require shooting in dark environments.

---
1 Micrometer (μm): 1 μm = one millionth of a meter = one thousandth of a millimeter.
2 Both (A) and (B) were taken with the same lens. Our global shutter sensor (pixel size 3.4 μm) is used in (B).