EOS R100: Entering the World of Mirrorless
Take your first step towards creating beautiful, high-quality photos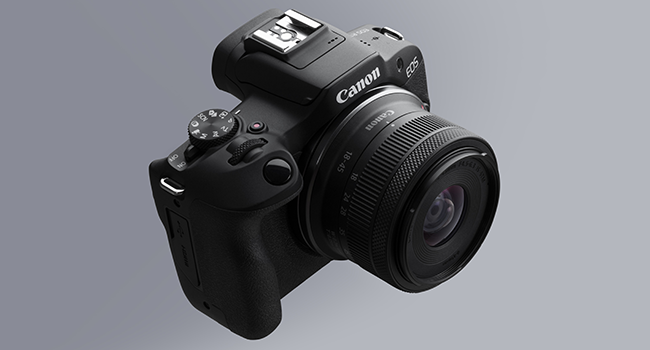 SINGAPORE, 24 May 2023 — Canon today announced the EOS R100, which is its smallest, lightest, and most affordable EOS R system camera to date.

"Canon is committed to supporting the photography needs of all types of photographers, and this includes delivering the best quality possible at different budget points," said Imasaka Daido, Director of Regional ICB Sales & Marketing, Canon Singapore. "We hope that the EOS R100 will enable a new group of users to discover the delight of shooting with the EOS R system."

Superior Image Quality Anywhere, Anytime
The EOS R100 delivers clear and sharp images with beautifully resolved details through its APS-C size CMOS image sensor. As Canon's smallest, lightest EOS R series camera, weighing around the same as a 330 ml canned drink at approx. 356 g1, it is easy to slip into your everyday bag and carry around, ready to capture fleeting moments and cherished memories. With Bluetooth and Wi-Fi connection, you can share your pictures to social media easily through the Canon Camera Connect app via your smartphone.

Elevate Your Shooting Experience
Designed with a viewfinder and generous grip, these features will ease your transition to start shooting like a professional photographer. The clear, high-definition built-in electronic viewfinder (EVF) provides better visibility outdoors under strong sunlight, while the rubberised textured grip allows a firmer, more stable hold on the camera, helping you nail steady shots.

Get Great Shots with Ease
Fast, highly accurate autofocusing, supported by Eye and Face Detection, detects and follows subjects over a wide area of the image, so it is easier to capture amazingly sharp pictures of people and objects even if they fidget or move across the frame. With a compatible lens, including your kit lens, you can also enjoy image stabilisation, which enables you to snap sharper handheld photos even in dim lighting. A convenient built-in flash helps you get well-lit shots in darker scenes or backlight, with flash power control options that you can utilise for creativity.

Exploring Video Creation
You can even create videos without shooting video, which is great for getting started without worrying about story concepts or editing. The Hybrid Auto mode turns your still photos and video snippets into a digest movie of the day's activities while the 4K Timelapse Video mode automatically takes shots of a scene at predetermined intervals and stitches them into a high-resolution video, all with pristine image quality and details.

For more hands-on video content creation, features like 4K video shooting and slow-motion movies with 120p high frame rate recording are available. With Eye Detection AF and Movie Digital IS function in movie mode, you can keep people in focus and ensure stable footage even if you are shooting while walking.

Customise Your Style
The EOS R100 offers multiple ways to create images regardless of your skillset when it comes to photography or your familiarity with manual controls and technical photography terms. Besides the typical DSLR and mirrorless camera controls, there is the Creative Assist mode, which lets you change settings using layman terms, such as "Background blur", "Brightness", and "Saturation". Alternatively, you could also use the Scene modes and Scene Intelligent Auto, where the camera chooses the best settings for your scene or ideal outcome. Creative filters under the in-camera presets is yet another option that allows you to change the look and finish of your images to express your individual style.

A Vast Selection of Lenses to Create With
The imaging possibilities are endless with a mirrorless camera – change your lenses and watch your perspective transform along with it! The EOS R100 is directly compatible with over 30 RF and RF-S lenses in the ever-growing RF lens line-up, which let you go wider, closer, reach further, or create beautiful, dreamy bokeh effects. It can also be paired with over 80 EF lenses via the EF-EOS R Mount Adapter.


About Canon Singapore Pte. Ltd.
Canon is a global leader in photographic and digital imaging solutions. Canon Singapore Pte. Ltd. is the headquarters for South & Southeast Asia driving sales, marketing and service strategies. Besides handling the domestic market, the company covers 22 other countries and regions including subsidiaries in India, Malaysia, Thailand and Vietnam. The parent company Canon Inc. has a global network of more than 300 companies and employs about 180,000 people worldwide. Canon is guided by its kyosei philosophy that focuses on living and working together for the common good.

More information is available at https://asia.canon.
---
1 According to CIPA standards, including the battery and memory card.


APPENDIX
Camera Model
EOS R100
Image Processor
DIGIC 8
Image Sensor Camera Effective Pixels
Effective sensor size: APS-C CMOS
Camera effective pixels: Max. Approx. 24.1 megapixels
Metering System
384 zone (24 × 16) metering using image sensor output signals
Autofocus Method
Face+Tracking AF, Spot AF, 1-point AF, Zone AF
Image Stabilizer (IS) System
Movie Digital IS
Effective ISO
Stills: 100 – 12,800 (H:25,600)
Movie (Full HD): 100 – 12,800 (H:25,600)
Movie (4K): 100 – 6,400
Continuous Shooting
Electronic 1st curtain:

One-Shot AF: 6.5 fps
Servo AF: 3.5 fps

Max. Shutter Speed
1/4,000 sec.
Viewfinder
0.39-inch OLED, approx. 2.36 million dots
59.94 fps Refresh Rate
Movie
4K UHD (3,840 x 2,160)
23.98 fps (NTSC)
25.00 fps (PAL)

Full HD (1,920 x 1,080)
59.94 fps / 29.97 fps / 23.98 fps (NTSC)
50.00 fps / 25.00 fps (PAL)

HD (1,280 x 720)
119.88 fps / 59.94 fps (NTSC)
100.00 fps / 50.00 fps (PAL)
Maximum Movie Recording Time
29 min. 59 sec. (Normal movie)
7 min. 29 sec. (High Frame Rate movie)
Recording Media
Single Card Slot (SD, SDHC*, SDXC*)

*UHS-I cards compatible
Power Supply
LP-E17
Optional Power
AC Power (AC Adapter AC-E6N and DC Coupler DR-E18)
Size
Approx. 116.3 x 85.5 x 68.8 mm
Weight
Approx. 356 g (incl. battery and memory card)
Network
Wi-Fi / Bluetooth Low Energy Technology Ver 4.2