Canon's New Add-On Applications System for Remote Cameras Takes Video Production to the Next Level
Featuring innovative Auto Tracking and Auto Loop Applications, the system provides operators with simple yet highly adaptable configurations to enhance video production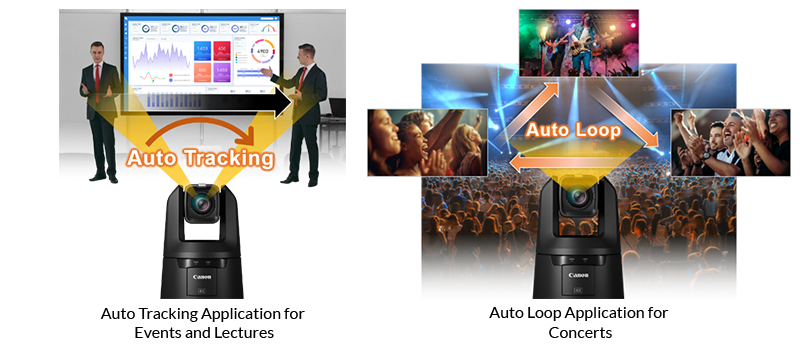 SINGAPORE, 26 January 2023 — Canon today announced the launch of an Add-On Applications System for remote cameras, enabling operators to enhance video production by adding advanced features through the installation of paid applications. The system now incorporates two innovative applications, the Auto Tracking and Auto Loop Applications to meet different video production needs, and will encompass more applications going forward.

Aimed at providing simple and highly adaptable system configurations, the new applications operate within remote cameras1 without the need for external hardware such as servers and PCs. The applications support the CR-N7002, Canon's high-end indoor 4K remote camera currently, and will expand to cover more compatible remote cameras gradually. Designed to improve productivity, the new features help to reduce workload and manpower for remote production, allowing operators to focus on other tasks such as camera switching and content delivery.

The Auto Tracking Application enables the remote camera to automatically track speakers or other specified persons during commercial presentations, lectures and events. With in-camera visual analysis, the system realises superb tracking capability, allowing shooting with excellent freedom of view, including full body, upper body, shoulders-up and other viewpoints, while following the movement of subjects moving at speeds ranging from slow to brisk3. In addition to the standard image capture of human figures typically required for broadcasting commercial events and lectures, the remote camera aided by its high-performance pan/tilt mechanism can capture the slow movement of subjects smoothly for quality video production. Furthermore, the application features a wide array of adjustment settings such as Composition, Tracking Sensitivity, and Priority Display Area.

The Auto Loop Application enables the remote camera to automatically repeat subtle pan/tilt/zoom (PTZ) staging movements typically performed by operators during the broadcast of events such as sports competitions, and interviews, as well as in the production of TV commercials and movies. Between patrol and back-and-forth motions within specified locations, operators can adjust parameters such as Position Setting to determine the pause duration at each point, Route Setting to determine movement speed, and other operations including Preview and Start, which can be easily configured on the settings screen. Additionally, operators can adjust the acceleration and deceleration of movements as the motions begin and end via the Fade Mode, enabling the automated camera system to mimic professional camerawork.

Availability
| | |
| --- | --- |
| Application | Release date |
| Auto Tracking Application RA-AT001 | Mid April 2023 |
| Auto Loop Application RA-AL001 | Mid April 2023 |


About Canon Singapore Pte. Ltd.
Canon is a global leader in photographic and digital imaging solutions. Canon Singapore Pte. Ltd. is the headquarters for South & Southeast Asia driving sales, marketing and service strategies. Besides handling the domestic market, the company covers 22 other countries and regions including subsidiaries in India, Malaysia, Thailand and Vietnam. The parent company Canon Inc. has a global network of more than 300 companies and employs about 180,000 people worldwide. Canon is guided by its kyosei philosophy that focuses on living and working together for the common good.

More information is available at https://asia.canon.

---
1 Application settings need to be configured through users' PC web browser.
2 Add-on Applications System requires firmware update (to be provided free-of-charge in Mid April 2023).
3 Supports walking speed of approximately 1.8 m/s (Approximately 1.0 m/s when shooting at shoulders-up angle).