Canon to Launch MS-500, the World's First1 Ultra-high-sensitivity Camera Equipped with SPAD Sensor for Colour Video Shooting
This camera will support advanced surveillance through clear video capture of subjects several kilometres ahead, even in the night-time darkness

SINGAPORE, 1 August 2023 — Canon announced today the upcoming launch of MS-500, the ultra-high-sensitivity ILC (Interchangeable-Lens Camera) equipped with the 1" SPAD (Single Photon Avalanche Diode) sensor featuring the world's highest pixel count of 3.2 megapixels2 in late August 2023.

In areas with extremely high security levels, such as seaports, public infrastructure facilities, and national borders, high-precision monitoring systems are required to accurately capture targets day and night. The new MS-500 camera is the world's first ultra-high-sensitivity camera equipped with a SPAD sensor used for colour video shooting, achieving a minimum subject illumination of 0.001 lux3. When used in combination with the ultra-telephoto broadcast lenses, it is possible to capture clear videos of subjects at distance of several kilometres even in the nighttime darkness. By strengthening the ultra-high-sensitivity camera's lineup, including the ME20/ML Series4, Canon helps to meet a variety of shooting needs in the advanced surveillance market.

Combination of SPAD Sensor and Broadcast Lenses Enable Long Range Surveillance at Night
The SPAD sensor uses a technology known as "photon counting", which counts light particles (photons) that enter a pixel. When incoming photons are converted to electric charge, they can be instantly amplified approx. 1 million times and extracted as a large signal, making it possible to detect even small amounts of light. In addition, every single one of these photons can be digitally counted, thus making it possible for noise not to enter during signal readout — a key advantage of SPAD sensors. This enables clear colour video shooting even under a 0.001 lux low-light environment. The lens mount is the bayonet lens mount (based on BTA S-1005B standards) which is a widely used mount for broadcast lenses. Taking advantage of Canon's extensive lineup of broadcast lenses with ultra-telephoto performance, it is possible to identify the subjects at distances of several kilometres even in the nighttime darkness.

Image Correction Functions to Improve Visibility, including Noise and Haze Reduction
In night monitoring and long-range surveillance, the effect of noise and atmospheric shaking, particularly in dark environments, may cause problems within the clarity of the video. To solve this problem, "CrispImg2", which optimizes sharpness, gamma curve, and noise reduction settings for monitoring applications, is installed as a standard feature in the custom picture function that allows for adjusting image quality settings according to the application. This enables shooting of high visibility videos at any time of day or night. The MS-500 also supports "haze compensation" function, which reduces the effects of haze and mist. This automatically adjusts for proper contrast and provides image correction functions that improve video quality.

The MS-500 would be available from late August 2023, at an open price.

Main Features
Combination of SPAD sensor and broadcast lenses enabling long range surveillance at night
SPAD sensor uses a method called "photon counting", which counts light particles (photons) that enter a pixel. Unlike the "electric charge accumulation method" of the CMOS sensor, which measures the amount of light accumulated in a pixel over a duration of time, the incoming photon generates an electron and can be instantly multiplied by about 1 million times and outputted as a large electrical signal. Since each photon is counted digitally, it makes it possible for noise not to enter during signal readout.5
Full HD clear colour shooting is possible even under minimum subject illumination of 0.001 lux.

Equipped with the conventional bayonet mount (BTA S-1005B standard compliant), common for broadcast lenses. Canon's abundant broadcast lenses with ultra-telephoto performance can be utilized.
Canon has a lens barrel design and lens coating technology, which reduces unwanted reflections, enabling clear video capture with less ghosting and flare. A digital servo system, digital drive unit, and high-resolution encoder provide high-speed, high precision zoom, focus, and iris operation.

Features image correction functions that improves visibility, including noise reduction and appropriate exposure adjustment
"CrispImg2", which optimizes sharpness, gamma curve, and noise reduction settings for monitoring purposes, is installed as standard in the custom picture function that allows for adjusting the image quality settings. Automatic adjustment is possible for suppressing noise and for sharp and highly visible image quality.
"Smart shade control6" makes it possible to properly adjust the exposure to suppress blocked up shadows of the subject and blown highlights of the background due to the backlight or the dark areas of the video.
"Haze compensation6" reduces the effect of haze and mist, and automatically adjusts for the proper contrast.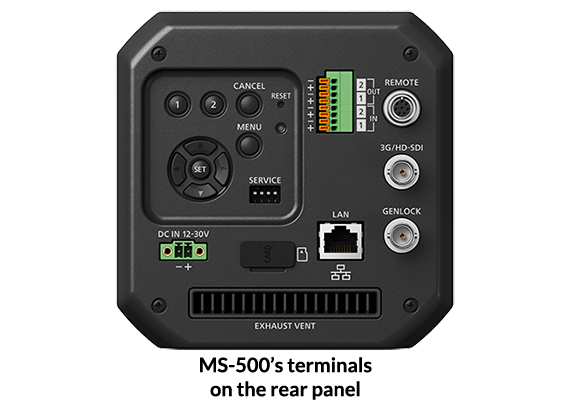 Supports serial communication functions which enables remote control of pan/tilt operations and image quality adjustment
Compatible with Canon's proprietary serial communication control protocol "NU" which is used for Canon's ultra-high-sensitivity cameras and remote cameras7.
Compatible with the "Pelco-D8" protocol proposed and published by Pelco, Inc. in the United States and is widely used to control remote cameras and pan-tilt heads.
Use a cable to connect the serial communication terminal of devices such as the pan-tilt head that support these protocols to the REMOTE terminal on the rear panel of the MS-500. By transmitting communication commands, the camera, lens, and pan-tilt head can be remotely controlled and operated from the control device.

Specification
For more information about the specification, visit Canon's website.


About Canon Singapore Pte. Ltd.
Canon is a global leader in photographic and digital imaging solutions. Canon Singapore Pte. Ltd. is the headquarters for South & Southeast Asia driving sales, marketing and service strategies. Besides handling the domestic market, the company covers 22 other countries and regions including subsidiaries in India, Malaysia, Thailand and Vietnam. The parent company Canon Inc. has a global network of more than 300 companies and employs about 180,000 people worldwide. Canon is guided by its kyosei philosophy that focuses on living and working together for the common good.

More information is available at https://asia.canon.
---
1 Among cameras equipped with SPAD sensors used for colour video shooting. As of July 31, 2023. Based on Canon research.
2 Among SPAD sensors used for video shooting. As of July 31, 2023. Based on Canon research. Approx. 2.1 million effective pixels.
3 Colour (night mode), no light accumulation, f/1.4 equivalent, shutter speed 1/30 second, 50IRE, maximum gain.
4 ME20F-SH (released in December 2015), ME20F-SHN (released in February 2018), ML-100 M58 (released in December 2020), ML-105 EF (released in April 2021).
5 For details about the differences between the SPAD sensor and the CMOS sensor, visit the Canon Technology website.
6 "Smart shade control" and "haze compensation" cannot be used together.
7 For Canon's remote camera lineup, please visit here.
8 Pelco is a trademark of Pelco, Inc. or its affiliates.