Canon Unveils MegaTank Business Printer to Elevate Office Productivity with Enhanced Paper Handling and High Volume Printing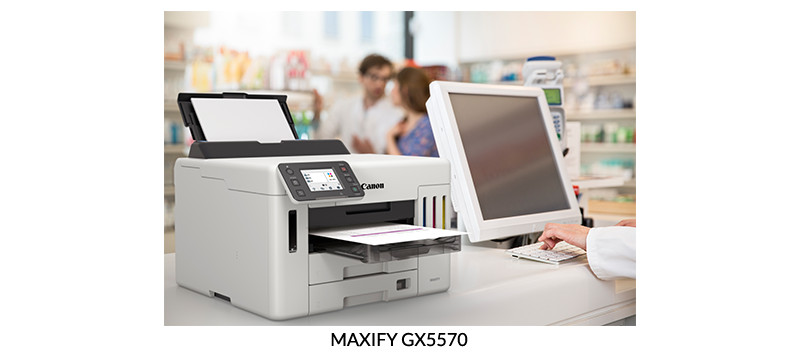 SINGAPORE, 29 August 2023 — Canon today announced the launch of its latest business ink tank printer, the MAXIFY GX5570. Tailored to meet the diverse needs of small businesses and vertical markets, the MAXIFY GX5570 enhances print quality and office document security alongside a suite of productivity features in advanced paper handling and touchscreen operation.

Exceptional Printing Yield and Low Total Cost of Ownership
The MAXIFY GX5570 can produce up to 6,000 pages1 for monochrome documents and an impressive 14,000 pages1 for colour documents with every set of inks. Businesses and small offices can maximise their mileage with a unique Economy Mode feature that pushes the limits to 9,000 pages1 and 21,000 pages1 respectively for monochrome and colour documents. For businesses with high volume of colour printing, this translates to a remarkably low total cost of ownership, so there is more cost efficiency for business owners.

High Print Quality and Excellent Water Resistance2
The MAXIFY GX5570 deploys an all-pigment ink formulation that produces water resistant2 documents with vibrant colours. This safeguard important documents and reports from careless water spills or getting caught in the rain unexpectedly, which may come in handy for applications such as package and retail price label printing.
This superior ink technology ensures excellent text and line legibility, ensuring documents are printed with the highest quality producing sharper text and fine lines.
With impact-free image reproduction technology in the MAXIFY GX5570, potential damage to delicate materials will be minimised, so excellent print quality can be achieved. This technology also ensures compatibility with a wide range of media such as window envelopes, glossy media, as well as long-form banner media up to 1.2 m.

Delivering Ultimate Productivity for Businesses
This new printer also allows users to effortlessly print on both sides of the paper, reducing paper consumption and contributing to a greener office environment.
Equipped with two paper cassettes and a rear tray, the MAXIFY GX5570 can feed up to 600 sheets at a time, allowing users to enjoy uninterrupted productivity even for large print jobs, reducing the need for frequent paper replenishment.
A user-replaceable maintenance cartridge design also eliminates the need for a service call, allowing businesses to continue printing with minimal downtime through a simple replacement.

Full Network Connectivity with Enhanced Data Security
Designed to fit seamlessly into modern business environments, the MAXIFY GX5570 features full network capability, including both LAN and Wi-Fi connectivity options, ensuring that all workgroup members can access the printer effortlessly at any time.
Support for WPA-Enterprise and TLS1.3 security also ensures faster server validity authentications and an additional layer of security against data snooping.

Versatile Solutions to Enhance Creativity
Users can conveniently print, scan, copy, connect to the cloud, as well as manage printer settings and setup through the Canon PRINT Inkjet/SELPHY mobile app3, available on the App Store and Google Play.
The Easy-PhotoPrint Editor app makes printing simple and is perfect for business or personal use. With ready-to-use templates, photo layouts, postcards, collages, calendars, photo IDs and even business cards can be created in minutes. The app is available for iOS, Android OS, Windows and macOS.
The MAXIFY GX5570 is also compatible with the new PosterArtist Web application. Users can utilise the excellent colour vibrancy of the all-pigment ink formulation to transform free templates, stock photos and clip art into beautiful professional prints.


Product Specifications
MAXIFY GX5570
MegaTank Wireless Printer with Dual Cassettes for Small Businesses
Product Dimensions (W x D x H)
399 x 410 x 298 mm
Document ISO Print Speed
24.0 / 15.5 ipm (mono/colour)
Key Features

Print only
Print up to 9,000/21,000 pages1 (mono/colour)
Load up to 600 sheets of plain paper
Auto duplex printing
Supports wireless and mobile printing
2.7" colour LCD touchscreen display
User replaceable ink maintenance cartridge


About Canon Singapore Pte. Ltd.
Canon is a global leader in photographic and digital imaging solutions. Canon Singapore Pte. Ltd. is the headquarters for South & Southeast Asia driving sales, marketing and service strategies. Besides handling the domestic market, the company covers 22 other countries and regions including subsidiaries in India, Malaysia, Thailand and Vietnam. The parent company Canon Inc. has a global network of more than 300 companies and employs about 180,000 people worldwide. Canon is guided by its kyosei philosophy that focuses on living and working together for the common good.

More information is available at https://asia.canon.
---
1 Inkjet printer page yield is based on the consumption data from the succeeding ink bottles but not the included ink bottles. Colour document page yield is the estimated value based on Canon individual test method using the ISO/IEC 24712 colour chart and continuous printing simulation with the replacement after initial setup.
2 Based on testing performed in accordance with ISO1179:2000 information and documentation standard - Permanence and durability of writing, printing and copying on paper. This feature is not guaranteed in all cases.
3 The Canon PRINT Inkjet/SELPHY will be renamed Canon PRINT in Q3 2023.